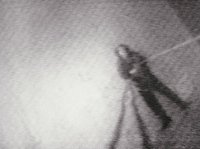 Dynamic Field Series, 1971
1 Pouce NTSC, noir et blanc, son
Dynamic Field Series is made up of three elements and four distinct spaces that turn within a closed loop: the artist's body, his electronic double, the ghost of this double and beyond that, the ghost of the viewer.
In the first movement, Peter Campus paces up and down in his studio, with a camera attached to his leg. The whole space becomes refocused on an image of himself that we never see, an absence that the viewer physically experiences. The rhythm increases, revealing only unreadable forms and vanishing points.
The second movement is absolutely concentric. The artist's body lies on the floor, the camera is set up overhead, held up with ropes that Peter Campus moves in a spiral motion around and towards his own body. Surreptitiously, this rotating and tilting effect creates a feeling of danger and of our gaze slipping away.
In a third movement, Peter Campus stages the construction followed by the dematerialisation of our visible space: facing the camera, he interposes pieces of tracing paper that progressively obstruct our field of vision, forcing us to look for his indistinct shadow behind this new layer, creating a different texture. He then tears up the dark wall, creating circles of light in this double screen, transforming the image and its electronic components into a perpetual transformation.
Stéphanie Moisdon
Translated by Jo Garden