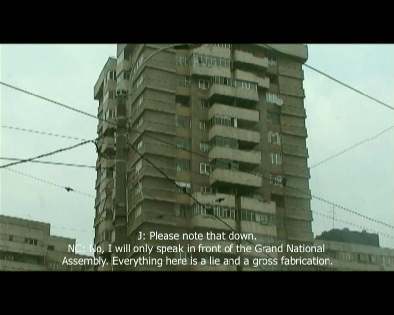 Procesul, 2004 - 2005
Dissecting the events of Romania's history and their memory via photography and video: these are the stakes of Mona Vatamanu and Florin Tudor's work. By taking interest in the architectural mutations that redefine questions of territoriality, this young duo seeks to reactivate the collective memory of Romanian culture by returning to historic sites that have been erased by Ceausescu. Their work, using different mediums – photography, cinema, performances, on site projects, etc. - is built in a spirit similar to that of the situationists, where art is conceived as a political tool.
Procesul is built on a text that looks more like a theatre performance than a lawsuit transcript. The camera films the façades of blocks of buildings built under the communist regime, that have remained unchanged for fifteen years, from behind the car windows, while the transcript of communist dictator Nicolae Ceausescu and his wife Elena's lawsuit is read without interruption or emotion. The intensity of the film is created by the tension between the ceaseless and dizzying movement of the camera, and the continuous and inexpressive reading of the lawsuit, that revisits a dark episode of modern history.
Translated by Mia Stern, 2021